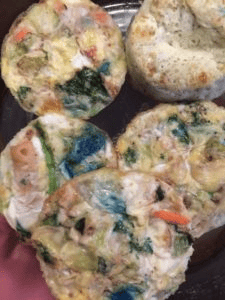 Easy Egg Muffin recipe is the BEST quick and easy grab-and-go breakfast or snack. I am currently in LOVE with making these healthy veggie egg muffins!  So much flavor yet so few ingredients. You can pop these wholesome muffins into the microwave and reheat them whenever you need a fast, filling breakfast or snack. This easy egg muffin recipe really makes baked egg cups (or mini frittatas, if you prefer a slightly fancier name) that are loaded with any variety of fresh vegetable, meat, and/or cheesy additions you please. You can enjoy them on their own or make them part of a larger breakfast spread
Ways to Spice them Up
I also love how versatile these muffins are!  I mean you can really just use whatever ingredients you already have on hand in your fridge such mushrooms, broccoli or even shredded carrots. I made this recipe completely meatless, but sometimes I'll even add
ground turkey
sausage
bacon
chopped ham
for some added protein and flavor!
Great for Meal Prep
These egg muffins can be easily stored in a sealed airtight container for up to four days in your fridge OR you can wrap them up individually and store in the freezer.  To thaw, simply remove them from the freezer the night before and pop them in the microwave in the morning.
OTHER EASY HEALTHY RECIPES BY DR KAREN
Easy Cauliflower Rice Recipe
Easy Roasted Cabbage Steak Recipe
Devilled Eggs Recipe Made Easy
Easy Egg Muffin Recipe
1 Grated Zucchini
1 cup Diced Yellow onion
1 Cup Diced Red Bell Pepper
1 tsp Nutmeg
6 Eggs
4 Egg Whites
1 clove Fresh Crushed Garlic
Preheat the oven to 350 degrees F (175 degrees C). Grease a 12-cup muffin tin
In a large skillet on medium heat, drizzle olive oil and saute onion and garlic for about 4 minutes until tender and fragrant. Add in zucchini and red bell pepper, cooking an additional 2 minutes. Add salt and pepper or criused red pepper to taste
Mix eggs and egg whites and add nutmeg (or any other spice you like)
Spray each muffin cup with avocado or extra virgin olive oil
Spoon veggie mix evenly in each muffin cup
Pour egg mixture equally into the prepared muffin cups.
OPTIONAL – Add cheese to egg mixture if you like
Bake in the preheated oven until a toothpick inserted into the center of a muffin comes out clean, about 25 minutes. Let cool slightly before serving
These muffins are high in protein, low in carb and taste amazing with a dollop of salsa! You can keep them veggie or you  can use any shredded cheese you like.
Feel free to add chopped ham or cook and chop your own bacon for some variety
Easy Egg Muffin recipe that will change your life! Great for on-the-go breakfasts and snacks and very customizable to your own tastes. You can substitute any vegetables or meat that you like. I love to make a dozen of these and have them in my fridge to have for breakfast or a snack during the day. .