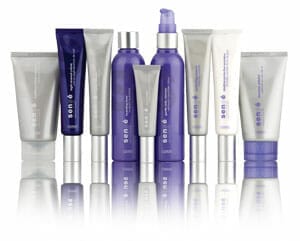 I am excited to share with you the safe personal care products my family uses. The less toxins we put in our body the better.
The brand is called SENSE and is USANA's personal care line  and is an alternative to the harsh chemicals commonly used to preserve other personal care productsand that means you don't have to worry about added chemical preservatives.
BASIC REGIME
Cleanse: Gentle Daily Cleanser is a mild, soap-free formula that washes away surface dirt and impurities without drying or irritating your skin.
Tone: Hydrating Toner refines skin's appearance and restores the pH balance of your skin.
Replenish: In the morning, Daytime Protective Emulsion restores moisture and protects against environmental damage. Before bed, Night Renewal Crème uses exclusive hydrating technology and shea butter to help you wake up to younger-looking skin.
TARGETED SOLUTIONS
Choose these targeted solutions for your individual beauty concerns:
For: Fine lines, wrinkles, and skin imperfections
Use: Serum Intensive
Dramatically diminish the look of fine lines and wrinkles while boosting skin firmness. It's ideal for oily skin. Use after Hydrating Toner.
For: Loss of radiance and blotchiness
Use: Perfecting Essence
Gently brightens and retexturizes the skin's appearance, leaving it visibly radiant and smooth. Safe for sensitive skin. Use after Hydrating Toner. If skin is very sensitive, use once daily, twice daily, or every other day as needed.
For: Crow's feet and dark circles
Use: Eye Nourisher
Diminishes the appearance of fine lines and wrinkles around the delicate eye area, while reducing the look of dark circles. Use after Hydrating Toner.
For: Dull, uneven texture
Use: Rice Bran Polisher
Gently exfoliates dead surface cells from the skin for a glowing complexion. Use 2–3 times per week after Gentle Daily Cleanser.
For: Clogged pores and dry skin
Use: Nutritious Crème Masque
Detoxifies pores while infusing skin with nutrient-rich hydration for a softer, firmer appearance. Use 2–3 times per week following Rice Bran Polisher.
 Find out more information at www.drkarenwolfe.usana.com
"Our patented preservative technology will change skin care as we know it. The cosmetic industry has been trying to discover a way to preserve products without adding parabens or harsh chemicals for years, and by introducing our new self-preserving technology in the Sensé product line, USANA continues to establish itself as the leader in the industry. The Sensé skin-care line has raised the bar for cosmetic companies around the world."
—Dr. Myron Wentz, Ph.D., internationally recognized microbiologist and immunologist and 2007 Einstein Award Winner