Zucchini Noodle Recipe I Love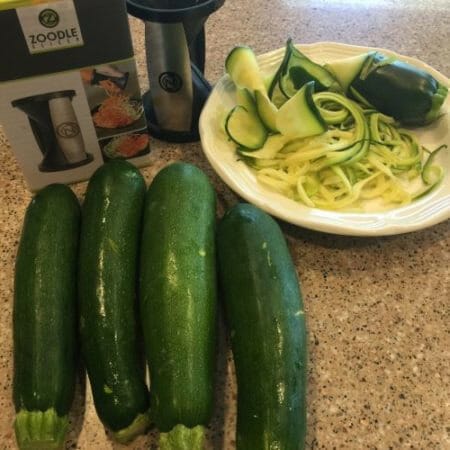 With only 5 ingredients, the recipe is easy to prepare, and the result is also gluten-free for those with specific dietary restrictions.
1 Large Zucchini
1 tbsp Extra Virgin Olive Oil
1 tsp Garlic Crushed
1 tbsp Parmesan Cheese
1 tsp Parlsey (minced)
Add zoodles to a skillet (after sauting olive oil and garlic in skillet) and saute over medium heat until tender. Just like pasta, the zucchini noodles should be al dente
Lightly seasoned with salt and pepper and garnish with freshly grated parmesan cheese and minced parsley
You can add ripe tomatoes, chicken, shrimp, plant-based proteins, or toss it in a pesto sauce for variety.
Zucchini noodles, or zoodles, are packed with nutrients and are a great way to make healthy all-vegetable pasta. I bought a simple gadget that makes it so easy! Zoodles can be eaten raw, or quickly blanched for a softer texture. You can serve the zoodles like spaghetti with any sauce you like, or with shrimp and pesto. Try roasting
zucchini
with mushrooms, sweet bell peppers, eggplant, and onion and serve as a side dish. Zucchini noodles (or "zoodles") are all the rage as they're a
healthy, gluten-free
alternative to pasta.
How Many Carbs in A Cup of Zucchini Noodles?
One heaping cup of zucchini noodles (the amount you'd make with about one medium zucchini, served raw) has about:
7 grams
carbs (or just
5 grams
net carbs, when taking into account fiber) 2 grams protein. 2 grams fiber.
How Do You Cook Zucchini Noodles?
Zucchini can be tricky, because it's made up of over 95% water and therefore, can get mushy and lifeless real quick. Avoid peeling the zucchini before spiralizing. Once you peel the zucchini, the flesh is exposed and the moisture will start to seep out. The zucchini will feel slimy, which will only result in a soggier, mushier noodle once cooked. Keep the skin on so that the noodle can keep its form longer and also, there are key nutrients in that skin! Place a skillet over medium-high heat, add in some olive oil or cooking spray and once the skillet is hot (flick water in, it should sizzle), add in the zucchini noodles. Toss the zucchini noodles lightly with pasta tongs and cook for for 3-5 minutes or until al dente – don't let the noodles cook for longer or else they'll wilt and look lifeless. Embrace the crunch!
Some other "Karen's Kitchen" Recipes You Will Like
CLICK HERE
for a lot more simple recipes made in my own kitchen