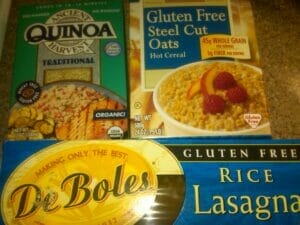 This week, Food Sensitivity testing showed that one of my family members is  "moderately" sensitive to gluten so we are going on a 2 month trial of gluten-free eating. So you,  (my community) ,get to go along the ride with us!
I will share with you what I am learning and blog about my experiences. I have already found lots of great gluten-free products in the store and tonight I made a gluten-free lasagna using rice lasagna noodles and everyone said it was my best lasagna ever! So far so good!
Gluten is actually a storage protein of wheat.  Other grains have proteins that chemically resemble gluten. Barley contains secalins and rye contains hordeins. Other members of this botanical tribe include spelt and kamut. That's why you see all of these grains – wheat, barley, rye, spelt and kamut on the "do not eat list" for gluten-free eating. Oats may appear on the list because they are contaminated by wheat, not because they inherently contain wheat.
Here is my GLUTEN FREE lasagna I made tonight which is so easy
INGREDIENTS
Gluten free Rice Noodles (don't have to boil them first!)
Cooked Ground Turkey with added Gluten-Free Spaghetti Sauce and spices and onions
Low fat Cottage Cheese
In a 9 x 13″ sprayed pan lay cooked turkey meat and cottage cheese together, then a layer of noodles and then another layer of turkey meat and cottage cheese.
Cook 350 degrees for 1 hour