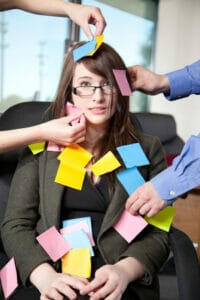 Change is happening so fast everywhere! I had a specific experience of it this week.
This week I did an online test as part of my Institute for Integrative Nutrition course. I have never done a TIMED ONLINE test before . (I know that shows my age as a baby boomer, since my 18 year old daughter has been doing online tests for years! )
I have to tell you that a  timer shows up on the screen clicking down the time remaining  and that created such anxiety for me!
Here I am trying to focus on reading a test question online (which in itself is weird since I am used to pen and paper tests), and this timer keeps clicking away in front of me. I wanted it to go away!
I really felt like I was in a whole new world in a strange kind of way and found it hard to focus my brain in the questions when I was dealing with so much new technology.
I did it and the computer gave me an instant passing score.  I passed more than just a test. I feel I passed an entry test into the virtual world of high tech, low touch and instant results.  Is this better than the old fashioned way of paper and pen? In some ways yes of course  it is, and yet I miss talking to someone and reading questions on a pper and waiting a week to get results.
Yes, times they are a changing!
Thanks for listening!
Karen