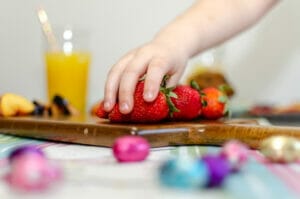 What are the best low sugar snacks for kids? Sugar weakens our immune system, making it harder for us and our kid's bodies to fight of germs.
Are there Good and Bad Foods?
I don't like to label foods as good/bad or healthy/unhealthy for kids. Because the fact is that foods high in sugar are all around us. They're part of our culture and we need to teach our kids to navigate that wisely.  Often, when we label foods as bad or keep them off limits, we only breed the desire for those forbidden foods more deeply in children.
How Much Sugar is Too Much Sugar?
While I don't want you fixating on how many grams of sugar your child needs a day, it's good to be aware of some general guidelines. 
The American Heart Association
recommends for children 2-18 years old:
No more than 25 grams of added sugar
(Or, more than 6 teaspoons (there's 4 grams in every teaspoon)
That's not including the naturally occurring sugars from fruit and carbs either.
13 Fun low sugar snacks for kids
Celery Logs (fill with cream cheese or peanut butter and top with raisins)
Apple Sandwiches (cut apple into round slices and spread with peanut butter and sprinkle with granola)
Peanut Butter Snack Bar HERE
Fruit Kabobs (use What are the best low sugar snacks for kids?to stack in pretty patterns on a skewer, perfect for kids to help create)
Smoothie Popsicles (Blend any type of no sugar added yogurt with whatever fruit or veggies you have on hand and pour into Popsicle molds)
Frozen yogurt berries (dip berries in whole fat, plain yogurt and freeze on a baking sheet individually or on skewers)
Rice cakes topped with hummus
Raw carrots and celery with natural peanut butter (make sure no sugar is added).
Low sugar blueberry muffins
Snow or snap peas with slivered almonds
Ham or turkey wrapped around a pickle
Granny smith apple (lower sugar content than most other types of apples)
Hard boiled egg and slices of cantaloupe
Roasted Chick Peas (Bake canned peas in oven with olive oil and seasonings on 450 degrees for 30 minutes until crunchy)
OTHER TOPICS