Easy Chicken & Cashew Stir Fry has broccoli snuck in there too!
SHOPPING LIST
Ingredients
1 small Onion, diced
1 Red Bell Pepper
4 cups Broccoli florets
1 lb chicken tenderloins 
4 Tbs Coconut oil
1/2 cup Arrowroot flour
3/4 cup Raw Cashews
YUMMY SAUCE
1/2 cup Coconut aminos
1/4 cup Maple syrup
1/4 cup low sodium chicken stock
2 cloves garlic, minced
2 Tbs Fresh Ginger, grated
Red pepper flakes
Salt & Pepper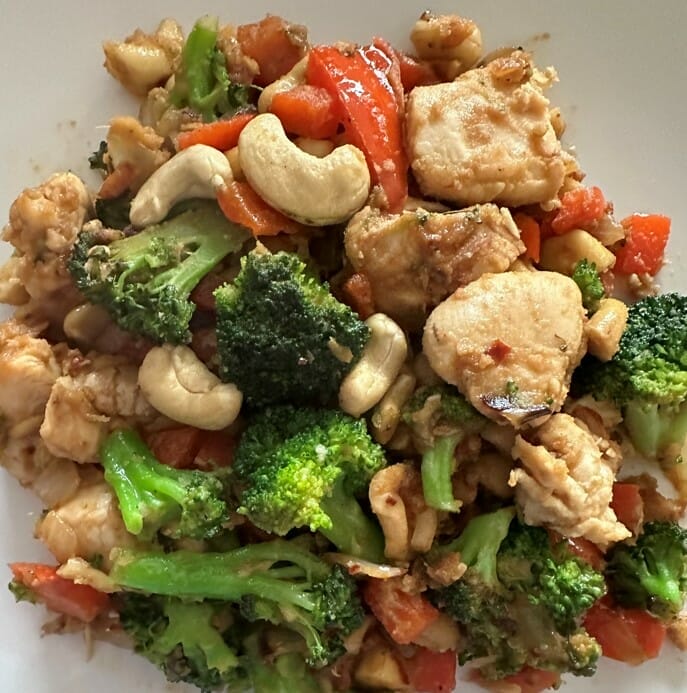 Easy Chicken & Cashew Stir Fry
STEP 1
Chop the chicken into small pieces and place in a medium bowl and toss with arrowroot flour, to coat. Set aside
STEP 2
In large skillet over medium heat, add 2 tablespoons of the oil then add chicken pieces, and cook for 6-8 minutes, until just browned on all sides. Transfer the chicken to a plate
STEP 3
Add remaining 2 tablespoons oil to the skillet and once hot, add the diced onion and red pepper. Sauté for about 4-6 minutes, then add broccoli florets and cashews.
STEP 4 PREPARE SAUCE
Whisk together the sauce ingredients in a bowl.
STEP 5 
Add chicken back to the skillet with the vegetables. Pour sauce on top and coat everything well. Cook for another 5 minutes or so, until the broccoli is tender and chicken is cooked through.
 Serve with cauliflower rice.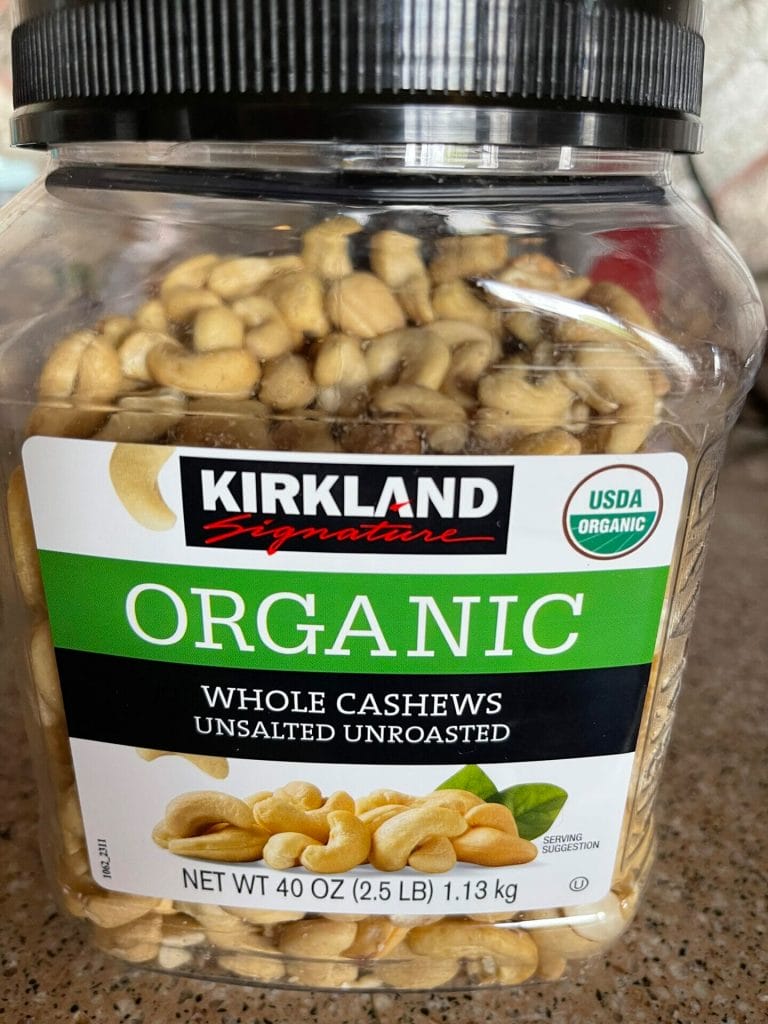 Other Recipes from Karen's Kitchen
I buy all the ingredients from Trader Joe's and it makes it super simple to whip up an easy and healthy dinner in 30 minutes. I used to buy the cauliflower and rinse and chop it into florets and put into a food processor ….. but why do that? You can buy it already riced!
The Edamame is an additional way to add protein if you want!
My Easy Roasted cabbage steak recipe is amazing! I could not believe how quick, easy and delicious these roasted cabbage steaks are. I am always looking for creative vegetable dishes to enjoy and even my husband loved this one!
Oven Roasted Veggie Recipe
Oven Roasted Veggie Recipe is the easiest and most delicious  roasted veggie recipe I have ever made.
The oil from the grilled  artichokes in jar give the veggies a delicious texture and flavor and the smoked paprika is yummy!
A great way to get your veggies! My husband went back for seconds – and he NEVER does that with veggies.