Oven Roasted Veggie Recipe is the easiest and most delicious  roasted veggie recipe I have ever made.
The oil from the grilled  artichokes in jar give the veggies a delicious texture and flavor and the smoked paprika is yummy!
A great way to get your veggies! My husband went back for seconds – and he NEVER does that with veggies.
I buy all the ingredients from Trader Joes and have the image of what to but right here for you.
Cauliflower rice 
Mushrooms
Green Beans. 
Grilled Artichokes in jar 
Smoked Paprika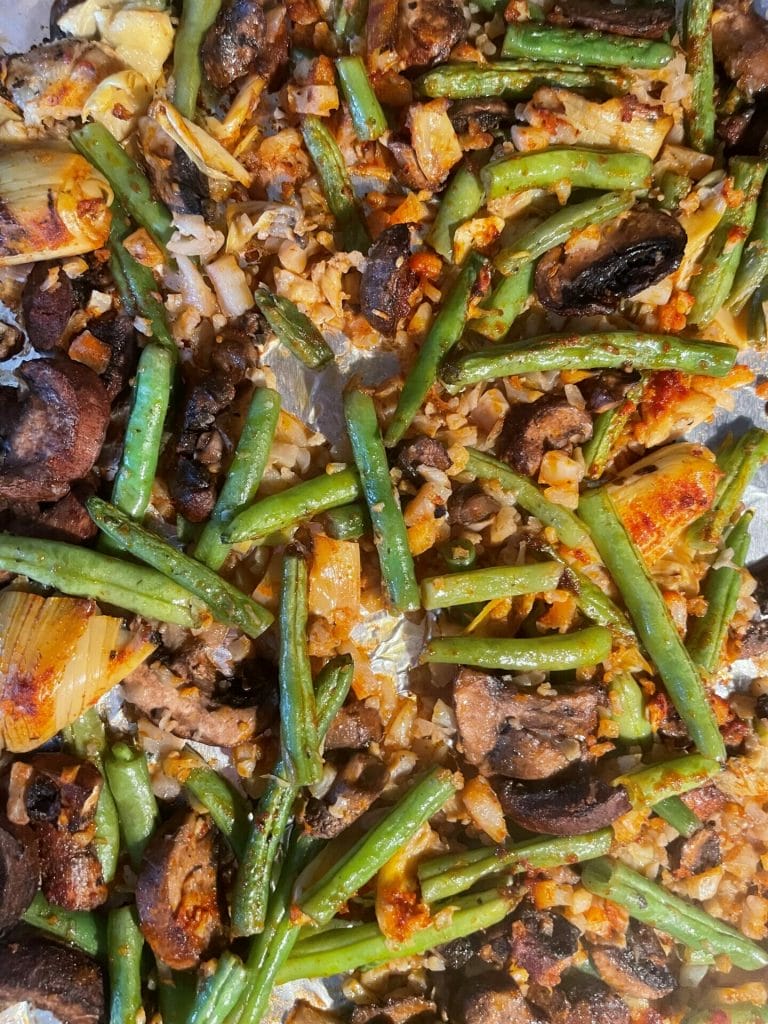 Oven Roasted Veggie Recipe
One of my favorite ways to prepare vegetables is to roast the veggies. Roast vegetables have a crisp textures veggies and maintain their heart-healthy fiber and vitamins. 
Roasted veggies — like crispy brussels sprouts and  crunchy cauliflower  — can taste like a guilty pleasure, almost too tasty to really be good for you.
 They are full of fiber, low in calories and rich in minerals.
STEP 1
Mix in bowl
Cauliflower rice 1/2 bag
Mushrooms 1/2 bag
Green Beans. 1/2 bag. Cut the down to about 1 inch pieces 
Artichokes 1/2 jar
STEP 2
Spread on foil lined cookie sheet.
STEP 3
Sprinkle smoked paprika over the veggies.
STEP 4
Cook in oven at 375 degrees  for 25 min.
STEP 5
Eat and enjoy this oven roasted veggie recipe! Go back for more.
Other Recipes from Karen's Kitchen
I buy all the ingredients from Trader Joe's and it makes it super simple to whip up an easy and healthy dinner in 30 minutes. I used to buy the cauliflower and rinse and chop it into florets and put into a food processor ….. but why do that? You can buy it already riced!
The Edamame is an additional way to add protein if you want!
My Easy Roasted cabbage steak recipe is amazing! I could not believe how quick, easy and delicious these roasted cabbage steaks are. I am always looking for creative vegetable dishes to enjoy and even my husband loved this one!